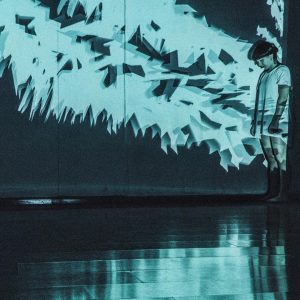 This workshop will cover basic techniques of working with Resolume Arena for live visuals, multimedia installations, and projection mapping, with an emphasis on students developing their own personal aesthetics. Topics covered include: image transformations, layers and transitions, effects and filters, working with clips and generative animations, and narrative composition. The end goal is to create and record a final project that shows an understanding of principles covered in each class session.
This class is open to both to beginners and to folks with some prior Resolume experience. It is recommended to already have at least a demo version of Resolume 6 or 7 installed on your computer before the first class session. It is highly recommended to have a computer/laptop with at least 4GB system RAM, and a graphics card with at least 256MB of VRAM.
Juana Molli is an audiovisual artist, and student of the career of electronic arts in the University of Tres de Febrero (UNTREF), currently working in the field of installation design, performance art, new media art and video projection mapping. Her audiovisual productions have taken over the screens of several museums, cultural centers, theaters and clubs by the most diverse scenes of performance and music styles. @serpienteroja instagram, behance.net/serpienteroja
Class schedule (in Eastern Daylight Time)
Wednesday June 14 7pm-9pm
Wednesday June 21 7pm-9pm
Wednesday June 28 7pm-9pm
Wednesday July 5 7pm-9pm
tickets: 100usd or more from here
We are able to accommodate sliding scale tickets below the asking price for a certain number of students who have inconsistent incomes and/or live in areas with vastly different economic realities; please contact juana.molli@gmail.com if interested.